Sign up for our water analytics program!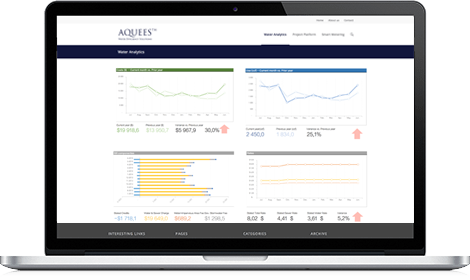 AQUEES' Water Analytics solution is the management tool to help property owners/managers understand and make informed decision about their water consumption.  Our analytics provides practical and useful information to support water consumption management: utility bill audit and organization, water usage report, cost budgeting and planning, cost forecasting, benchmarking and financial analysis for project cost and return on investment.

Utility bill audit and organization
AQUEES provides services to manage and organize your water utility bills. We collect and organize your data in a way that enables property managers to verify the accuracy of the water bill, track water usage, control monthly, quarterly and yearly water budgets as well as comply with mandatory reporting requirements.
Our data capture process is streamlined and data can be captured from any source including supplier data files, Building Management Systems, metering systems, property management systems or other platforms. Manual data capture process is easily managed using our customizable forms.
Our reports are fully customizable to help you meet both mandatory and management reporting requirements.

Water usage report and analysis
AQUEES provides water customized usage reports to enable property managers to make informed decisions and report with confidence. Our solution filters the noise from the data, so that property managers can see the true picture, detect water use anomalies and understand savings opportunities. The water analytics solution accelerates the time to analyze decisions and take actions.

Cost budgeting and planning
AQUEES financial simulation tool analyzes the historic water use and costs as well as forward water rates to help you create yearly, quarterly and monthly budgets. Our reports will help keep track of budget targets as well as enable property managers to plan utility costs with confidence.

MAKE THE RIGHT DECISIONS:
Cost forecasting, benchmarking and financial analysis for project cost and return on investment.
AQUEES financial analysis enhances the planning process by providing decision support. Our financial target and forecasting models analyze different water saving scenarios, enabling property managers to make decisions on water efficiency with confidence. Targeted analytics for the property helps property managers to select the right service providers and streamline the path to more efficient water management.